Memories of Grandpa Duwyn
 Unfortunately your Grandfather Albert died at age 65 as the result of lung cancer on June 29, 1982, however I would like to tell you his story.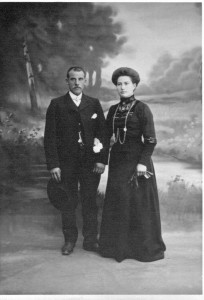 Camiel/Clemence Duwyn
Wedding Day Sept 17, 1910
Albert Francois Duwijn was born in Hillegem, a small village in the province of East Flanders in Belgium on November 12, 1916. He was the 3 child of Clemence (Huyge) and Camiel Duwyn (older brothers Victor and Sylvan). In the years to follow he had two more sisters Marie (VanLaecke) and Georgette (VandeVelde). The Duwyn family
had a few acres of land in Belgium, where they raised a few cows and grew vegetables. Camiel worked in the mines in France to support his family. In 1924 his father, Camiel, came to Harrow, Ontario and worked in the sugar beets and burley tobacco The following year his mother and his 2 older brothers Victor and Sylvan came to Canada and they remained in Harrow until 1927 and then moved to Vittoria as opportunities for flu cured tobacco were increasing. Albert along with his two sisters stayed in Belgium in a convent with his mother's sister who wa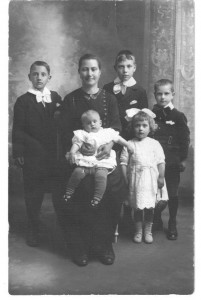 s a nun there. Unfortunately Albert did not see his sisters as the boys and girls were on separate sides of this convent. He had several relatives in the village (the Huyge family who were double related as Camiel's sisters married Clemence's brother) but he did not get many opportunities to see them, sometimes he wrote a letter to the nuns saying that he had permission to visit an aunt.
Sylvan/Clemence/Victor/Albert/Georgette/Marie
Albert was very lonely for his family and came to Canada on his own, at age 11 on Oct 10, 1928 aboard the SS Montrose landing in Quebec on October 19, 1928.
From there he took the train to Norfolk County to meet his family however somehow there was a mix up at the train station and he missed his parents when he got off the train. He was able to get a ride with the mailman, so he was waiting at the farm when his parents arrived home thinking that Albert had missed the train. In 1929 his youngest sister Yvonne was born at Mabee's Corner near Courtland. The Duwyn family were hard working people and they saved enough money to buy a farm in LaSalette at L20 Concession 7 on Oct 30, 1930. The mortgage began Feb 1931 for a 5 year term. In 1931 his parents had planned to go back to Belgium to get his 2 sisters however the
re was a fire and their house and all belongings were destroyed (Albert thinks that he may have left a candle burning when they went to town. In 1932 his parents did go back to Belgium to get Marie and Georgette who were now 9 and 7 . Georgette recalls seeing these 2 people in church who she did not recognize but after mass they were told that they were her parents. They returned to Canada and Marie and Georgette were reunited with 3 brothers and a sister who they did not know..
 Albert passport photo 1928 age 11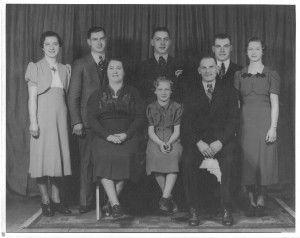 Marie/Albert/Sylvan/Victor/Georgette Clemence/Yvonne/Camiel
Albert 1939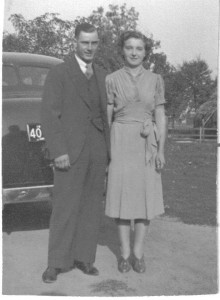 Albert & Mary 1940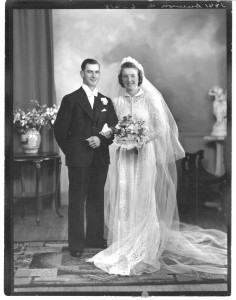 April 15, 1941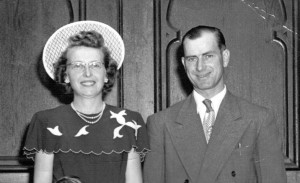 Mary& Albert 1949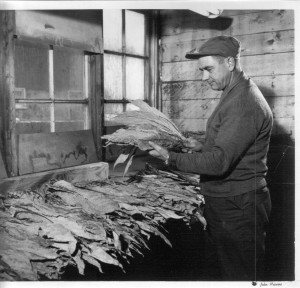 Albert grading tobacco.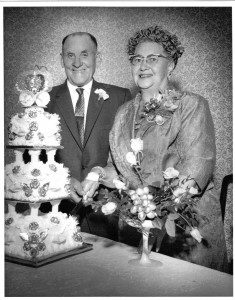 Camiel & Clemence Duwyn 50th Wedding Anniversary Sept 1960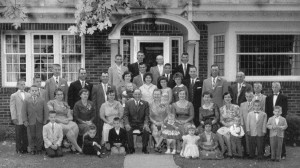 Duwyn familySept1960 at 50th Anniversary celebration.
 Duwyn Family Tree
(Note that Duwijn was changed to Duwyn after moving to Canada)
 Albert Francois Duwyn /Nov 12, 1916 April 15, 1941 Mary DeFraeye /Oct 31, 1920
Camillus Hippolytus Duwyn /Dec 16, 1883 Sept 17, 1910 Clemence Marie Huyge /Jan 10, 1889
 Johannes Victor Duwijn /Jun 5, 1842 Felicita Desmet /1846
 Bernarde Duwijn /Sept.02,1803 Feb 7, 1838 Maria Theresia DeRouck /1813
 Joannes Baptista Duwijn /Jun 1, 1779 Pitronella DeVuijst /
 Judocus Duwijn /Dec 28, 1750 Jun 2, 1776 Theresia Wattelijn /Aug 10, 1753
 Livini Duwijn Apr 23, 1746 Maria Josina Joris